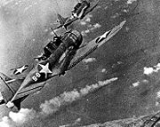 Battle of Midway
The Battle of Midway is widely regarded as the most important naval battle of the Pacific Campaign of World War II. Between 4 and 7 June 1942, approximately one month after the Battle of the Coral Sea and six months after Japan's attack on Pearl Harbor, the United States Navy decisively defeated an Imperial Japanese Navy attack against Midway Atoll, inflicting irreparable...
Timeline of Events
1942

6.4.1942

World War II: The Battle of Midway begins. Japanese

Admiral

Chuichi Nagumo orders a strike on Midway Island by much of the Imperial Japanese navy.

6.6.1942

World War II

: Battle of Midway. U.S. Navy dive bombers sink the Japanese cruiser Mikuma and four Japanese carriers.