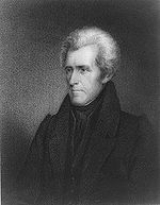 Indian Removal Act
The Indian Removal Act was signed into law by President Andrew Jackson on May 28, 1830.The Removal Act was strongly supported in the South, where states were eager to gain access to lands inhabited by the Five Civilized Tribes. In particular, Georgia, the largest state at that time, was involved in a contentious jurisdictional dispute with the Cherokee nation...
Timeline of Events
1830

5.26.1830

The Indian Removal Act is passed by the U.S. Congress; it is signed into law by

President Andrew Jackson

two days later.

1831

2.24.1831

The Treaty of Dancing Rabbit Creek, the first removal treaty in accordance with the Indian Removal Act, is proclaimed. The Choctaws in

Mississippi

cede land east of the river in exchange for payment and land in the West.