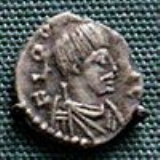 Odoacer
Flavius Odoacer , also known as Flavius Odovacer, was the first King of Italy. His reign is commonly seen as marking the end of the Western Roman Empire. Though the real power in Italy was in his hands, he represented himself as the client of Julius Nepos and, after Nepos' death in 480, of the Emperor in Constantinople...
Timeline of Events
476

8.22.476

Odoacer is named ''Rex italiae'' by his troops.

489

9.27.489

Odoacer attacks

Theodoric

at the Battle of Verona, and is defeated again.