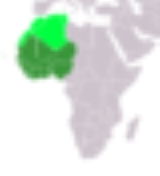 West Africa
West Africa or Western Africa is the westernmost region of the African continent. Geopolitically, the UN definition of Western Africa includes the following 16 countries and an area of approximately 5 million square km:-Flags of West Africa:...
Timeline of Events
1942

9.12.1942

World War II

: RMS ''Laconia'', carrying civilians, Allied soldiers and

Italian POWs

is torpedoed off the coast of West Africa and sinks with a heavy loss of life.

1975

5.28.1975

Fifteen West African countries sign the Treaty of Lagos, creating the Economic Community of West African States.

1999

2.4.1999

Unarmed West African immigrant Amadou Diallo is shot dead by four plainclothes

New York City

police officers on an unrelated stake-out, inflaming race-relations in the city.