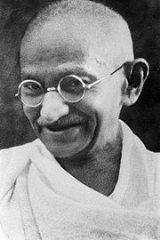 Civil disobedience
Civil disobedience is the active, professed refusal to obey certain laws, demands, and commands of a government, or of an occupying international power. Civil disobedience is commonly, though not always, defined as being nonviolent resistance. It is one form of civil resistance...
Timeline of Events
1893

6.7.1893

Gandhi's first act of civil disobedience.

1922

1930

4.5.1930

In an act of civil disobedience, Mohandas Gandhi breaks

British

law after marching to the sea and making salt.