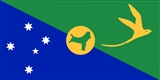 Christmas Island
The Territory of Christmas Island is a territory of Australia in the Indian Ocean. It is located northwest of the Western Australian city of Perth, south of the Indonesian capital, Jakarta, and ENE of the Cocos Islands....
Timeline of Events
1643

12.25.1643

Christmas Island found and named by Captain William Mynors of the East India Ship Company vessel, the ''Royal Mary''.

1942

3.31.1942

World War II

: Japanese forces invade Christmas Island, then a British possession.

2001

10.19.2001

SIEV-X, an

Indonesia

n fishing boat en-route to Christmas Island, carrying over 400 asylum seekers, sinks in international waters with the loss of 353 people.