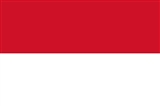 Indonesia
Indonesia , officially the Republic of Indonesia , is a country in Southeast Asia and Oceania. Indonesia is an archipelago comprising approximately 13,000 islands. It has 33 provinces with over 238 million people, and is the world's fourth most populous country. Indonesia is a republic, with an elected legislature and president. The nation's capital city is Jakarta...
Timeline of Events
1945

11.10.1945

Heavy fighting in Surabaya between Indonesian nationalists and returning colonialists after World War II, is celebrated as Heroes' Day (Hari Pahlawan).

1949

12.27.1949

Indonesian National Revolution: The

Netherlands

officially recognizes Indonesian independence.

1950

1955

4.18.1955

Twenty-nine nations meet at Bandung, Indonesia, for the first Asian-African Conference.

1957

12.5.1957

Sukarno expels all Dutch people from Indonesia.

1961

12.18.1961

Indonesia invades Netherlands New Guinea.

1965

10.1.1965

General Suharto crushes an attempted coup in Indonesia.

1966

3.12.1966

Suharto takes over from Sukarno to become President of Indonesia.

1967

1975

1976

7.17.1976

History of East Timor:

East Timor

is

annexed

, and becomes the 27th province of Indonesia.

1979

1991

10.5.1991

An Indonesian military transport crashes after takeoff from

Jakarta

killing 137.

11.12.1991

Dili Massacre, Indonesian forces open fire on a crowd of student protesters in

Dili

,

East Timor

.

1997

9.26.1997

A Garuda Indonesia Airbus A-300 crashes near Medan, Indonesia, airport, killing 234.

12.19.1997

SilkAir Flight 185 crashes into the Musi River, near Palembang in Indonesia, killing 104.

1998

5.13.1998

Race riots break out in

Jakarta

, Indonesia, where shops owned by Indonesians of Chinese descent are looted and women raped.

1999

9.12.1999

Indonesia announces it will allow international peace-keepers into

East Timor

.

2001

1.29.2001

Thousands of student protesters in Indonesia storm parliament and demand that President Abdurrahman Wahid resign due to alleged involvement in corruption scandals.

10.19.2001

SIEV-X, an Indonesian fishing boat en-route to

Christmas Island

, carrying over 400 asylum seekers, sinks in international waters with the loss of 353 people.

2002

5.20.2002

The independence of

East Timor

is recognized by

Portugal

, formally ending 23 years of Indonesian rule and 3 years of provisional UN administration (Portugal itself is the former colonizer of East Timor until 1976).

2003

8.5.2003

A car bomb explodes in the Indonesian capital of

Jakarta

outside the Marriott Hotel killing 12 and injuring 150.

2004

11.30.2004

Lion Air Flight 538 crash lands in Surakarta, Central Java, Indonesia, killing 26.

2005

3.28.2005

The 2005 Sumatran earthquake rocks Indonesia, and at magnitude 8.7 is the second strongest earthquake since 1965.

5.27.2005

Australian Schapelle Corby is sentenced to 20 years imprisonment in Kerobokan Prison for drug smuggling by a court in Indonesia.

8.18.2005

Massive power blackout hits the Indonesian island of Java, affecting almost 100 million people.

9.5.2005

Mandala Airlines Flight 091 crashes into a heavily-populated residential of Sumatra, Indonesia, killing 104 people on board and at least 39 persons on ground.

2007

1.1.2007

Adam Air Flight 574 disappears over Indonesia with 102 people on board.

2009

3.27.2009

Situ Gintung, an artificial lake in Indonesia, fails, killing at least 99 people.