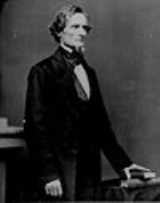 Jefferson Davis
Jefferson Finis Davis , also known as Jeff Davis, was an American statesman and leader of the Confederacy during the American Civil War, serving as President for its entire history. He was born in Kentucky to Samuel and Jane Davis...
Timeline of Events
1847

12.5.1847

Jefferson Davis is elected to the US senate, his first political post.

1861

1862

2.22.1862

Jefferson Davis is officially inaugurated for a six-year term as the President of the Confederate States of America in

Richmond, Virginia

. He was previously inaugurated as a provisional president on February 18, 1861.

1863

1865

4.2.1865

American Civil War: Confederate President Jefferson Davis and most of his

Cabinet

flee the Confederate capital of

Richmond, Virginia

.

5.10.1865

American Civil War: Jefferson Davis is captured by

Union

troops near Irwinville, Georgia.