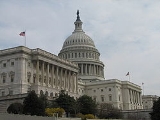 United States Senate
The United States Senate is the upper house of the bicameral legislature of the United States, and together with the United States House of Representatives comprises the United States Congress. The composition and powers of the Senate are established in Article One of the U.S. Constitution. Each U.S. state is represented by two senators, regardless of population...
Timeline of Events
1794

2.11.1794

First session of United States Senate open to the public.

1803

1804

1834

1837

1841

2.18.1841

The first ongoing filibuster in the United States Senate begins and lasts until March 11.

1848

1850

1856

1861

1867

1868

1870

1887

1.20.1887

The United States Senate allows the

Navy

to lease Pearl Harbor as a naval base.

1899

1900

1.16.1900

The United States Senate accepts the

Anglo

-German treaty of 1899 in which the United Kingdom renounces its claims to the Samoan islands.

1903

3.14.1903

The Hay-Herran Treaty, granting the

United States

the right to build the

Panama Canal

, is ratified by the United States Senate. The

Colombia

n Senate would later reject the treaty.

1907

1911

8.14.1911

United States Senate leaders agree to rotate the office of President pro tempore of the Senate among leading candidates to fill the vacancy left by William P. Frye's death.

1913

1920

3.19.1920

The United States Senate rejects the

Treaty of Versailles

for the second time (the first time was on November 19, 1919).

1922

1932

1.12.1932

Hattie W. Caraway becomes the first woman elected to the United States Senate.

1935

1937

1945

12.4.1945

By a vote of 65 to 7, the United States Senate approves

United States

participation in the

United Nations

(the UN was established on October 24, 1945).

1947

1948

9.13.1948

Margaret Chase Smith is elected senator, and becomes the first woman to serve in both the U.S.

House of Representatives

and the United States Senate.

1949

1950

1951

5.3.1951

The United States Senate Armed Services and Foreign Relations Committees begin their closed door hearings into the dismissal of

General

Douglas MacArthur by

U.S. President

Harry Truman.

1952

3.20.1952

The United States Senate ratifies a

peace treaty

with Japan.

1954

6.9.1954

McCarthyism: Joseph Welch, special counsel for the

United States Army

, lashes out at

Senator Joseph McCarthy

during hearings on whether Communism has infiltrated the

Army

giving McCarthy the famous rebuke, "You've done enough. Have you no sense of decency, sir, at long last? Have you left no sense of decency?"

12.2.1954

Red Scare: The United States Senate votes 65 to 22 to condemn

Joseph McCarthy

for "conduct that tends to bring the Senate into dishonor and disrepute".