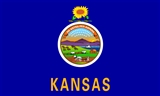 Kansas
Kansas is a US state located in the Midwestern United States. It is named after the Kansas River which flows through it, which in turn was named after the Kansa Native American tribe, which inhabited the area. The tribe's name is often said to mean "people of the wind" or "people of the south wind," although this was probably not the term's original meaning...
Timeline of Events
1850

1854

1856

5.24.1856

John Brown

and his men murder five slavery supporters at Pottawatomie Creek, Kansas.

1861

1.29.1861

1907

1.23.1907

Charles Curtis of Kansas becomes the first Native American

U.S. Senator

.

1947

2008

5.10.2008

An EF4 tornado strikes the

Oklahoma

-Kansas state line, killing 21 people and injuring over 100.