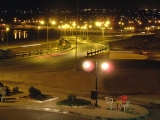 Tobruk
Tobruk or Tubruq is a city, seaport, and peninsula on Libya's eastern Mediterranean coast, near the border with Egypt. It is the capital of the Butnan District and has a population of 120,000 ....
Timeline of Events
1941

5.1.1941

World War II: German forces launch a major attack on Tobruk.

1942

6.21.1942

World War II: Tobruk falls to Italian and German forces.