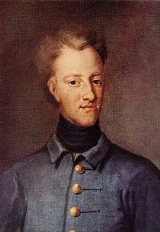 Charles XII of Sweden
Charles XII also Carl of Sweden, , Latinized to Carolus Rex, Turkish: Demirbaş Şarl, also known as Charles the Habitué was the King of the Swedish Empire from 1697 to 1718...
Timeline of Events
1708

9.11.1708

Charles XII of Sweden stops his march to conquer

Moscow

outside Smolensk, marking the turning point in the

Great Northern War

. The army is defeated nine months later in the Battle of Poltava, and the Swedish empire ceases to be a major power.

1713

1868

11.30.1868

The inauguration of a statue of King Charles XII of Sweden takes place in the King's garden in

Stockholm

.