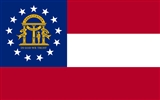 Georgia (U.S. state)
Georgia is a state located in the southeastern United States. It was established in 1732, the last of the original Thirteen Colonies. The state is named after King George II of Great Britain. Georgia was the fourth state to ratify the United States Constitution, on January 2, 1788...
Timeline of Events
1732

1733

1788

1814

1825

2.12.1825

The Creek cede the last of their lands in

Georgia

to the

United States

government, and migrate west.

1861

1864

1870

7.15.1870

Reconstruction era of the United States:

Georgia

becomes the last of the former

Confederate

states to be readmitted to the

Union

.

1885

10.13.1885

The Georgia Institute of Technology (Georgia Tech) is founded in Atlanta,

Georgia

.

1889

1.15.1889

The Coca-Cola Company, then known as the Pemberton Medicine Company, is originally incorporated in Atlanta,

Georgia

.

1922

1953

1957

3.8.1957

The 1957 Georgia Memorial to Congress, which petitions the U.S. Congress to declare the ratification of the 14th & 15th Amendments to the U.S. Constitution null and void, is adopted by the state of

Georgia

.

2000

3.20.2000

Jamil Abdullah Al-Amin, a former

Black Panther

once known as H. Rap Brown, is captured after murdering

Georgia

sheriff's deputy Ricky Kinchen and critically wounding Deputy Aldranon English.