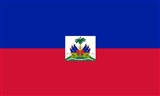 Haiti
Haiti , officially the Republic of Haiti , is a Caribbean country. It occupies the western, smaller portion of the island of Hispaniola, in the Greater Antillean archipelago, which it shares with the Dominican Republic. Ayiti was the indigenous Taíno or Amerindian name for the island...
Timeline of Events
1492

1791

1794

1804

1.1.1804

French

rule ends in Haiti. Haiti becomes the first black republic and second independent country on the American Continent after the U.S.

1806

1844

3.30.1844

One of the most important battles of the Dominican War of Independence from Haiti takes place near the city of Santiago de los Caballeros.

1935

10.25.1935

Hurricane floods Haiti, killing over 2,000 people.

1986

1988

9.11.1988

1990

3.10.1990

In Haiti, Prosper Avril is ousted 18 months after seizing power in a coup.

1991

9.29.1991

Military coup in Haiti (1991 Haitian coup d'état).

2004

9.23.2004

Hurricane Jeanne: At least 1,070 in Haiti are reported to have been killed by

flood

s.