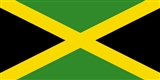 Jamaica
Jamaica is an island nation of the Greater Antilles, in length, up to in width and 10,990 square kilometres in area. It is situated in the Caribbean Sea, about south of Cuba, and west of Hispaniola, the island harbouring the nation-states Haiti and the Dominican Republic...
Timeline of Events
1494

1655

1692

6.7.1692

Port Royal, Jamaica, is hit by a catastrophic earthquake; in just three minutes, 1,600 people are killed and 3,000 are seriously injured.

1865

10.11.1865

Paul Bogle led hundreds of black men and women in a march in Jamaica, starting the Morant Bay rebellion.

1962

8.6.1962

Jamaica becomes independent.

1966

4.21.1966

Rastafari movement: Haile Selassie of Ethiopia visits Jamaica, an event now celebrated as Grounation Day.

1988

9.12.1988

Hurricane Gilbert devastates Jamaica; it turns towards Mexico's Yucatán Peninsula 2 days later, causing an estimated $5 billion in damage.