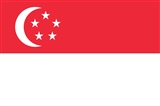 Singapore
Singapore , officially the Republic of Singapore, is a Southeast Asian city-state off the southern tip of the Malay Peninsula, north of the equator. An island country made up of 63 islands, it is separated from Malaysia by the Straits of Johor to its north and from Indonesia's Riau Islands by the Singapore Strait to its south...
Timeline of Events
1819

2.6.1819

Sir Thomas Stamford Raffles founds Singapore.

2.7.1819

Sir Thomas Stamford Raffles leaves Singapore after just taking it over, leaving it in the hands of William Farquhar.

1867

1886

3.1.1886

The Anglo-Chinese School, Singapore is founded by

Bishop

William Oldham.

1942

2.11.1942

The Battle of Bukit Timah is fought in Singapore during

World War II

.

2.14.1942

Battle of Pasir Panjang contributes to the fall of Singapore.

1943

10.10.1943

Double Tenth Incident in Japanese controlled Singapore

1954

5.13.1954

The anti-National Service Riots, by Chinese Middle School students in Singapore, take place.

1957

4.11.1957

Britain agrees to Singaporean self-rule.

1959

12.3.1959

The current flag of Singapore is adopted, six months after Singapore became self-governing within the

British Empire

.

1963

1965

8.9.1965

Singapore is expelled from

Malaysia

and becomes the first and only country to date to gain independence unwillingly.

1967

2007

10.25.2007

The first

Airbus A380

passenger flight, operating for Singapore Airlines, with flight number SQ 380, flying scheduled service between Singapore and

Sydney

,

Australia

.

2008

5.23.2008

2010

8.14.2010

2010 Summer Youth Olympic Games, first ever Youth Olympics, officially starts in Singapore.