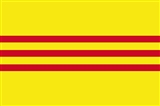 South Vietnam
South Vietnam was a state which governed southern Vietnam until 1975. It received international recognition in 1950 as the "State of Vietnam" and later as the "Republic of Vietnam" . Its capital was Saigon...
Timeline of Events
1954

1955

5.18.1955

Operation Passage to Freedom, the evacuation of 310,000 Vietnamese civilians, soldiers and non-Vietnamese members of the French Army from communist

North Vietnam

to South Vietnam following the end of the

First Indochina War

, ends.

10.26.1955

1957

2.22.1957

Ngo Dinh Diem

of South Vietnam survived a communist shooting assassination attempt in Ban Me Thuot.

9.2.1957

President

Ngo Dinh Diem

of South Vietnam becomes the first foreign head of state to make a state visit to Australia.

1958

1960

11.11.1960

A military coup against President

Ngo Dinh Diem

of South Vietnam is crushed.

1961

11.18.1961

United States

President John F. Kennedy sends 18,000 military advisors to South Vietnam.

1963

5.30.1963

A protest against pro-Catholic discrimination during the

Buddhist crisis

is held outside South Vietnam's National Assembly, the first open demonstration during the eight-year rule of

Ngo Dinh Diem

.

6.3.1963

The

Buddhist crisis

: Soldiers of the

Army of the Republic of Vietnam

attack protesting Buddhists in

Huế

, South Vietnam, with liquid chemicals from tear gas grenades, causing 67 people to be hospitalised for blistering of the skin and respiratory ailments.

11.2.1963

South Vietnamese President

Ngô Ðình Diệm

is assassinated following a military coup.

1964

7.20.1964

Vietnam War

: Viet Cong forces attack the capital of Dinh Tuong Province, Cai Be, killing 11 South Vietnamese military personnel and 40 civilians (30 of which are children).

7.27.1964

9.18.1964

North Vietnamese Army begins infiltration of South Vietnam.

1965

5.27.1965

Vietnam War

: American warships begin the first bombardment of National Liberation Front targets within South Vietnam.

6.9.1965

Civilian Prime Minister of South Vietnam Phan Huy Quat resigned after being unable to work with a junta led by

Nguyen Cao Ky

.

6.14.1965

Nguyen Cao Ky

became Prime Minister of South Vietnam at the head of a military junta; General

Nguyen Van Thieu

became the figurehead chief of state.

7.28.1965

Vietnam War

: U.S. President

Lyndon B. Johnson

announces his order to increase the number of United States troops in South Vietnam from 75,000 to 125,000.

9.7.1965

Vietnam War

: In a follow-up to August's Operation Starlight, United States Marines and South Vietnamese forces initiate Operation Piranha on the Batangan Peninsula.

10.23.1965

Vietnam War

: The 1st Cavalry Division (United States) (Airmobile), in conjunction with South Vietnamese forces, launches a new operation seeking to destroy

North Vietnam

ese forces in Pleiku in the II Corps Tactical Zone (the Central Highlands).

11.28.1965

Vietnam War: In response to U.S. President Lyndon B. Johnson's call for "more flags" in

Vietnam

,

Philippines

President Elect

Ferdinand Marcos

announces he will send troops to help fight in South Vietnam.

1966

3.10.1966

Military Prime Minister of South Vietnam

Nguyen Cao Ky

sacked rival General Nguyen Chanh Thi, precipitating large-scale civil and military dissension in parts of the nation.

5.15.1966

After a policy dispute, Prime Minister

Nguyen Cao Ky

of South Vietnam's ruling junta launches a military attack on the forces of General Ton That Dinh, forcing him to abandon his command.

12.24.1966

A Canadair CL-44 chartered by the United States military crashes into a small village in South Vietnam, killing 129.

1967

12.4.1967

Vietnam War

:

US

and South Vietnamese forces engage Viet Cong troops in the Mekong Delta.

1968

1.22.1968

Operation Igloo White, a US electronic surveillance system to stop communist infiltration into South Vietnam begins installation.

1.30.1968

Vietnam War

: The Tet Offensive begins when Viet Cong forces launch a series of surprise attacks in South Vietnam.

2.1.1968

Vietnam War

: The execution of Viet Cong officer Nguyen Van Lem by South Vietnamese National Police Chief Nguyen Ngoc Loan is videotaped and photographed by Eddie Adams. This image helped build

opposition to the Vietnam War

.

2.24.1968

Vietnam War

: The Tet Offensive is halted; South Vietnam recaptures

Hué

.

7.26.1968

Vietnam War

: South Vietnamese opposition leader Trương Đình Dzũ is sentenced to five years hard labor for advocating the formation of a coalition government as a way to move toward an end to the war.

11.11.1968

Vietnam War: Operation Commando Hunt initiated. The goal is to interdict men and supplies on the

Ho Chi Minh Trail

, through

Laos

into South Vietnam.