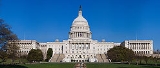 United States Capitol
The United States Capitol is the meeting place of the United States Congress, the legislature of the federal government of the United States. Located in Washington, D.C., it sits atop Capitol Hill at the eastern end of the National Mall...
Timeline of Events
1793

1844

1932

6.17.1932

Bonus Army

: around a thousand

World War I

veterans amass at the United States Capitol as the

U.S. Senate

considers a bill that would give them certain benefits.

1954

3.1.1954

Puerto Rican nationalists attack the United States Capitol building, injuring five Representatives.

1971

3.1.1971

A bomb explodes in a men's room in the United States Capitol: the Weather Underground claims responsibility.

1983

11.7.1983

1983 United States Senate bombing: a bomb explodes inside the United States Capitol. No people are harmed, but an estimated $250,000 in damage is caused.

1998

7.24.1998

Russell Eugene Weston Jr. bursts into the United States Capitol and opens fire killing two police officers. He is later ruled to be incompetent to stand trial.