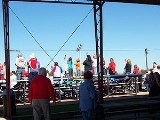 National anthem
A national anthem is a generally patriotic musical composition that evokes and eulogizes the history, traditions and struggles of its people, recognized either by a nation's government as the official national song, or by convention through use by the people.- History :Anthems rose to prominence in Europe during the 19th century, but some are...
Timeline of Events
1792

4.25.1792

''La Marseillaise'' (

French

national anthem) is composed by Claude Joseph Rouget de Lisle.

1880

6.24.1880

First performance of ''O Canada'', the song that would become the national anthem of Canada, at the Congrès national des Canadiens-Français.

1883

8.17.1883

The first public performance of the

Dominican Republic

's national anthem, ''Himno Nacional''.

1954

8.4.1954

The Government of Pakistan approves Qaumi Tarana, written by Hafeez Jullundhry and composed by Ahmed Ghulamali Chagla, as the national anthem.

8.13.1954

Radio Pakistan broadcasts the National Anthem of

Pakistan

for the first time.

1977

11.21.1977

Minister of Internal Affairs Allan Highet announces that 'the national anthems of

New Zealand

shall be the traditional anthem "God Save the Queen" and the poem "God Defend New Zealand", written by Thomas Bracken, as set to music by John Joseph Woods, both being of equal status as national anthems appropriate to the occasion.

1980

7.1.1980

''O Canada'' officially becomes the national anthem of Canada.

1984

4.19.1984

''Advance Australia Fair'' is proclaimed as Australia's national anthem, and green and gold as the national colours.

1999

8.9.1999

The

Diet of Japan

enacts a law establishing the

Hinomaru

and Kimi Ga Yo as the official national flag and national anthem.