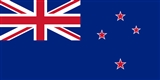 New Zealand
New Zealand is an island country in the south-western Pacific Ocean comprising two main landmasses and numerous smaller islands. The country is situated some east of Australia across the Tasman Sea, and roughly south of the Pacific island nations of New Caledonia, Fiji, and Tonga...
Timeline of Events
1642

12.13.1642

Abel Janszoon Tasman reaches New Zealand.

1827

3.7.1827

Shrigley Abduction: Ellen Turner is

abducted

by Edward Gibbon Wakefield, a future politician in colonial New Zealand.

1840

2.6.1840

Signing of the Treaty of Waitangi, establishing New Zealand as a

British

colony.

1845

3.11.1845

The Flagstaff War: Unhappy with translational differences regarding the Treaty of Waitangi, chiefs Hone Heke, Kawiti and Māori tribe members chop down the British flagpole for a fourth time and drive settlers out of Kororareka, New Zealand.

1848

3.23.1848

The ship ''John Wickliffe'' arrives at Port Chalmers carrying the first

Scottish

settlers for Dunedin, New Zealand. Otago province is founded.

1856

7.31.1856

Christchurch, New Zealand is chartered as a city.

1860

1861

1863

2.7.1863

''HMS Orpheus'' sinks off the coast of

Auckland

, New Zealand, killing 189.

10.31.1863

The Maori Wars resumes as

British

forces in New Zealand led by General Duncan Cameron begin their Invasion of the Waikato.

1868

11.2.1868

Time zone

: New Zealand officially adopts a standard time to be observed nationally

1870

5.14.1870

The first game of

rugby

in New Zealand is played in Nelson between Nelson College and the Nelson Rugby Football Club.

1876

11.1.1876

New Zealand's provincial government system is dissolved.

1886

6.10.1886

Mount Tarawera in New Zealand erupts, killing 153 people and destroying the famous Pink and White Terraces.

1893

9.19.1893

Women's suffrage

: in New Zealand, the Electoral Act of 1893 is consented to by the

governor

giving all women in New Zealand the right to vote.

9.19.1893

Women's suffrage

: in New Zealand, the Electoral Act of 1893 is consented to by the

governor

giving all women in New Zealand the right to vote.

1901

6.11.1901

New Zealand annexes the Cook Islands.

1907

1914

1917

10.12.1917

World War I

: The First Battle of Passchendaele takes place resulting in the largest single day loss of life in New Zealand history.

1931

1.7.1931

Guy Menzies flies the first solo non-stop trans-Tasman flight (from

Australia

to New Zealand) in 11 hours and 45 minutes, crash-landing on New Zealand's west coast.

2.3.1931

The Hawke's Bay earthquake, New Zealand's worst natural disaster, kills 258.

1939

1944

4.13.1944

Diplomatic relations between New Zealand and the Soviet Union are established.

1947

11.18.1947

The Ballantyne's Department Store fire in Christchurch, New Zealand, kills 41 (New Zealand's worst ever fire).

1951

1953

12.24.1953

Tangiwai disaster: A railway bridge is destroyed by a

lahar

at Tangiwai, in the Central North Island of New Zealand, sending a fully loaded passenger train into the Whangaehu River, and killing 153 people.

1954

9.20.1954

New Zealand's Special Committee on Moral Delinquency in Children and Adolescents reports just ten days after concluding hearings.

1959

5.30.1959

The Auckland Harbour Bridge, crossing the Waitemata Harbour in

Auckland

, New Zealand, is officially opened by Governor-General Lord Cobham.

1960

6.1.1960

New Zealand's first official television broadcast commences at 7.30pm from Auckland.

1962

1.1.1962

Western Samoa achieves independence from New Zealand; its name is changed to the Independent State of Western Samoa.

1965

8.4.1965

The Constitution of Cook Islands comes into force, giving the Cook Islands self-governing status within New Zealand.

1968

4.10.1968

Shipwreck of the New Zealand inter-island

ferry

TEV ''Wahine'' outside Wellington harbour.

1969

10.14.1969

The

United Kingdom

introduces the British fifty-pence coin, which replaced, over the following years, the British ten-shilling note, in anticipation of the decimalization of the British currency in

1971

, and the abolition of the shilling as a unit of currency anywhere in the world. (Canada,

Australia

, New Zealand,

Hong Kong

, etc., had already abolished the shilling in favor of a decimal currency with exactly 100 pence per

pound sterling

or dollar, whichever was applicable.}

1971

1976

7.17.1976

The opening of the Summer Olympics in Montreal is marred by 25 African teams boycotting the New Zealand team.

1977

11.21.1977

Minister of Internal Affairs Allan Highet announces that 'the

national anthem

s of New Zealand shall be the traditional anthem "God Save the Queen" and the poem "God Defend New Zealand", written by Thomas Bracken, as set to music by John Joseph Woods, both being of equal status as national anthems appropriate to the occasion.