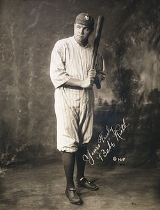 Babe Ruth
George Herman Ruth, Jr. , best known as "Babe" Ruth and nicknamed "the Bambino" and "the Sultan of Swat", was an American Major League baseball player from 1914–1935...
Timeline of Events
1914

1917

6.23.1917

In a game against the

Washington Senators

,

Boston Red Sox

pitcher Ernie Shore retires 26 batters in a row after replacing Babe Ruth, who had been ejected for punching the umpire.

1919

1923

4.18.1923

Yankee Stadium, "The House that

Ruth

Built," opens.

1927

9.30.1927

Babe Ruth becomes the first baseball player to hit 60 home runs in a season.

1929

1974

4.8.1974

at Atlanta-Fulton County Stadium, Hank Aaron hits his 715th career

home run

to surpass Babe Ruth's 39-year-old record.