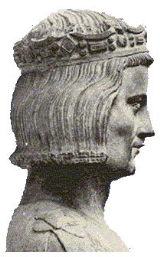 Louis IX of France
Louis IX , commonly Saint Louis, was King of France from 1226 until his death. He was also styled Louis II, Count of Artois from 1226 to 1237. Born at Poissy, near Paris, he was an eighth-generation descendant of Hugh Capet, and thus a member of the House of Capet, and the son of Louis VIII and Blanche of Castile...
Timeline of Events
1249

2.16.1249

Andrew of Longjumeau is dispatched by Louis IX of France as his ambassador to meet with Mongol

Khagan

of the

Mongol Empire

.

1250

4.13.1250

The Seventh Crusade is defeated in

Egypt

, Louis IX of France is captured.

1259

12.4.1259

Kings Louis IX of France and

Henry III of England

agree to the Treaty of Paris, in which Henry renounces his claims to

French

-controlled territory on continental

Europe

(including

Normandy

) in exchange for Louis withdrawing his support for English rebels.

1260

10.24.1260

The spectacular Cathedral of Chartres is dedicated in the presence of King Louis IX of France; the cathedral is now a

UNESCO

World Heritage Site.

1269

6.19.1269

King Louis IX of France orders all Jews found in public without an identifying yellow badge to be fined ten livres of

silver

.

1270

10.30.1270

The Eighth Crusade and siege of

Tunis

end by an agreement between

Charles I of Sicily

(brother to King Louis IX of France, who had died months earlier) and the

sultan

of

Tunis

.