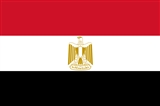 Egypt
Egypt , officially the Arab Republic of Egypt, Arabic: , is a country mainly in North Africa, with the Sinai Peninsula forming a land bridge in Southwest Asia. Egypt is thus a transcontinental country, and a major power in Africa, the Mediterranean Basin, the Middle East and the Muslim world...
Timeline of Events
48BC

9.28.48 BC

Pompey the Great

is assassinated on the orders of King Ptolemy of Egypt after landing in Egypt.

9.28.48 BC

Pompey the Great

is assassinated on the orders of King Ptolemy of Egypt after landing in Egypt.

44BC

9.2.44 BC

Pharaoh

Cleopatra VII of Egypt declares her son co-ruler as Ptolemy XV Caesarion.

30BC

8.12.30 BC

Cleopatra VII Philopator, the last ruler of the Egyptian Ptolemaic dynasty, commits

suicide

, allegedly by means of an asp bite.

365

7.21.365

A

tsunami

devastates the city of Alexandria, Egypt. The tsunami is caused by an earthquake estimated to be 8.0 on the Richter Scale. 5,000 people perished in Alexandria, and 45,000 more died outside the city.

435

8.3.435

Deposed Patriarch of Constantinople Nestorius, considered the originator of Nestorianism, is exiled by

Roman Emperor

Theodosius II to a monastery in Egypt.

1218

5.24.1218

The Fifth Crusade leaves Acre for Egypt.

1250

1260

10.24.1260

Saif ad-Din Qutuz, Mamluk sultan of Egypt, is assassinated by Baibars, who seizes power for himself.

1799

7.15.1799

The Rosetta Stone is found in the Egyptian village of Rosetta by

French

Captain Pierre-François Bouchard during Napoleon's Egyptian Campaign.

1801

1805

5.17.1805

Muhammad Ali becomes Wāli of Egypt.

1811

3.1.1811

Leaders of the Mameluke dynasty are killed by Egyptian ruler Muhammad Ali.

1824

1854

1859

2.4.1859

The Codex Sinaiticus is discovered in Egypt.

1869

1882

7.11.1882

The

British

Mediterranean fleet begins the Bombardment of Alexandria in Egypt as part of the 1882 Anglo-Egyptian War.

1917

1.9.1917

World War I: the Battle of Rafa occurs near the Egyptian border with

Palestine

.

1922

3.15.1922

After Egypt gains nominal independence from the United Kingdom, Fuad I becomes King of Egypt.

1942

10.23.1942

World War II:

Second Battle of El Alamein

: – At El Alamein in northern Egypt, the British Eighth Army under Field Marshal Montgomery begins a critical offensive to expel the

Axis

armies from Egypt.

1945

2.24.1945

Egyptian

Premier

Ahmed Maher Pasha is killed in Parliament after reading a decree.

1948

5.15.1948

1952

1.26.1952

Black Saturday in Egypt: rioters burn

Cairo

's central business district, targeting British and upper-class Egyptian businesses.

1954

2.25.1954

Gamal Abdul Nasser is made premier of Egypt.

4.18.1954

Gamal Abdal Nasser seizes power in Egypt.

1956

1.16.1956

President Gamal Abdal Nasser of Egypt vows to reconquer

Palestine

.