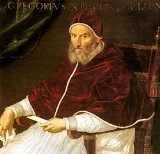 Pope Gregory XIII
Pope Gregory XIII , born Ugo Boncompagni, was Pope from 1572 to 1585. He is best known for commissioning and being the namesake for the Gregorian calendar, which remains the internationally-accepted civil calendar to this date.-Youth:He was born the son of Cristoforo Boncompagni and wife Angela Marescalchi and paternal...
Timeline of Events
1582

10.4.1582

Pope Gregory XIII implements the

Gregorian Calendar

. In Italy, Poland, Portugal, and Spain, October 4 of this year is followed directly by October 15.