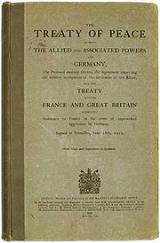 Treaty of Versailles
The Treaty of Versailles was one of the peace treaties at the end of World War I. It ended the state of war between Germany and the Allied Powers. It was signed on 28 June 1919, exactly five years after the assassination of Archduke Franz Ferdinand. The other Central Powers on the German side of World War I were dealt with in separate treaties...
Timeline of Events
1919

5.4.1919

May Fourth Movement: Student demonstrations take place in

Tiananmen Square

in

Beijing

, China, protesting the Treaty of Versailles, which transferred Chinese territory to

Japan

.

6.28.1919

The Treaty of Versailles is signed in Paris, formally ending

World War I

between Belgium, Britain, France, Italy, the United States and allies on the one side and Germany and Austria-Hungary on the other side.

1920

3.19.1920

The

United States Senate

rejects the Treaty of Versailles for the second time (the first time was on November 19, 1919).

1936

3.7.1936

World War II

(Prelude to): In violation of the Locarno Pact and the Treaty of Versailles,

Germany

reoccupies the Rhineland.