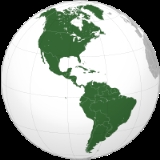 Americas
The Americas, or America , are lands in the Western hemisphere, also known as the New World. In English, the plural form the Americas is often used to refer to the landmasses of North America and South America with their associated islands and regions, while the singular form America is primarily used to refer to the United States of America...
Timeline of Events
1493

1587

1606

12.20.1606

The Virginia Company loads three ships with settlers and sets sail to establish

Jamestown, Virginia

, the first permanent English settlement in the Americas.

1619

7.30.1619

In

Jamestown, Virginia

, the first representative assembly in the Americas, the House of Burgesses, convenes for the first time.

1650

6.9.1650

The Harvard Corporation, the more powerful of the two administrative boards of Harvard, is established. It is the first legal corporation in the Americas.

1690

9.25.1690

''Publick Occurrences Both Foreign and Domestick'', the first

newspaper

to appear in the Americas, is published for the first and only time.