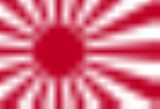 Imperial Japanese Navy
The Imperial Japanese Navy was the navy of the Empire of Japan from 1869 until 1947, when it was dissolved following Japan's constitutional renunciation of the use of force as a means of settling international disputes...
Timeline of Events
1905

5.28.1905

Russo-Japanese War

: The Battle of Tsushima ends with the destruction of the

Russia

n Baltic Fleet by

Admiral

Togo Heihachiro and the Imperial Japanese Navy.

1941

12.10.1941

World War II

: The

Royal Navy

capital ships HMS Prince of Wales and HMS Repulse are sunk by Imperial Japanese Navy torpedo bombers near Malaya.

1942

5.31.1942

1943

1944

10.25.1944

Battle of Leyte Gulf

, the largest naval battle in history, takes place in and around the

Philippines

between the Imperial Japanese Navy and the U.S. Third and U.S. Seventh Fleets.

1945

3.11.1945

World War II: The Imperial Japanese Navy attempts a large-scale

kamikaze

attack on the U.S. Pacific Fleet anchored at Ulithi atoll in Operation Tan No. 2.