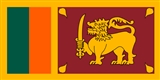 Sri Lanka
Sri Lanka, officially the Democratic Socialist Republic of Sri Lanka is a country off the southern coast of the Indian subcontinent. Known until 1972 as Ceylon , Sri Lanka is an island surrounded by the Indian Ocean, the Gulf of Mannar and the Palk Strait, and lies in the vicinity of India and the Maldives...
Timeline of Events
1835

10.9.1835

The Royal College, Colombo in Sri Lanka is established with the name Hillstreet Academy.

1886

11.1.1886

Ananda College, a leading Buddhist school in Sri Lanka is established with 37 students.

1935

12.18.1935

The Lanka Sama Samaja Party is founded in

Ceylon

.

1942

1948

1955

1956

4.5.1956

In Sri Lanka, the Mahajana Eksath Peramuna win the general elections in a landslide and S.W.R.D. Bandaranaike is sworn in as the

Prime Minister

.

1960

7.20.1960

Ceylon (now Sri Lanka) elects

Sirimavo Bandaranaike

Prime Minister, the world's first elected female head of government.

1972

1978

11.15.1978

A chartered

Douglas DC-8

crashes near Colombo, Sri Lanka, killing 183.

1981

5.31.1981

Burning of Jaffna library, Sri Lanka, It is one of the violent examples of ethnic biblioclasm of the twentieth century.

1986

2.19.1986

Akkaraipattu massacre: the

Sri Lankan Army

massacres 80

Tamil

farm workers the eastern province of Sri Lanka.

5.3.1986

Twenty-one people are killed and forty-one are injured after a bomb explodes in an airliner (Flight UL512) at

Colombo

airport in Sri Lanka.

1987

1988

1989

1990

8.10.1990

More than 127 Muslims are killed in North East Sri Lanka by paramilitary troops.

9.5.1990

Eastern University massacre, massacre of 158

Tamil

civilians by

Sri Lankan

army at the Eastern University in Batticaloa, Sri Lanka.

9.9.1990

1990 Batticaloa massacre, massacre of 184 minority

Tamil

civilians by

Sri Lankan Army

in the eastern Batticaloa District of Sri Lanka.

1991

6.12.1991

1991 Kokkadichcholai massacre: the

Sri Lankan Army

massacres 152 minority

Tamil

civilians in the village Kokkadichcholai near the eastern province town of Batticaloa, Sri Lanka.

1995

12.5.1995

The Sri Lankan government announces the conquest of

Tamil

stronghold of Jaffna.

1996

1.31.1996

An explosives-filled truck rams into the gates of the Central Bank of Sri Lanka in

Colombo

, Sri Lanka killing at least 86 and injuring 1,400.

1998

2004

2005

8.12.2005

Sri Lanka's foreign minister, Lakshman Kadirgamar, is fatally shot by an LTTE sniper at his home.