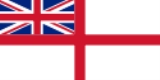 Royal Navy
The Royal Navy is the naval warfare service branch of the British Armed Forces. Founded in the 16th century, it is the oldest service branch and is known as the Senior Service...
Timeline of Events
1707

10.22.1707

Scilly naval disaster: four British Royal Navy ships run aground near the

Isles of Scilly

because of faulty navigation. Admiral Sir Cloudesley Shovell and thousands of sailors drown.

1801

7.6.1801

Battle of Algeciras: the

French navy

are defeated by the Royal Navy.

1807

1810

1893

6.22.1893

The Royal Navy

battleship

HMS Camperdown accidentally rams the British Mediterranean Fleet flagship HMS Victoria which sinks taking 358 crew with her including the fleet's commander, Vice-Admiral Sir George Tryon.

1910

1.1.1910

Captain David Beatty is promoted to Rear Admiral, and becomes the youngest admiral in the Royal Navy (except for

Royal family

members), since Horatio Nelson.

1913

8.16.1913

Completion of the Royal Navy battlecruiser HMS Queen Mary.

1914

8.28.1914

World War I

: the Royal Navy defeats the

German

fleet in the Battle of Heligoland Bight.

11.1.1914

World War I

: the first

British

Royal Navy defeat of the war with Germany, the Battle of Coronel, is fought off of the western coast of

Chile

, in the

Pacific

, with the loss of HMS Good Hope and HMS Monmouth.

1915

3.14.1915

World War I

: Cornered off the coast of

Chile

by the Royal Navy after fleeing the Battle of the Falkland Islands, the

German

light cruiser SMS ''Dresden'' is abandoned and scuttled by her crew.

1918

1925

1939

9.10.1939

World War II

: The submarine HMS Oxley is mistakenly sunk by the submarine HMS Triton near

Norway

and becomes the Royal Navy's first loss.

1940

1941

5.9.1941

World War II: The German submarine ''U-110'' is captured by the Royal Navy. On board is the latest Enigma cryptography machine which

Allied

cryptographers later use to break coded German messages.

5.24.1941

World War II

: In the Battle of the Atlantic, the German Battleship ''Bismarck'' sinks the then pride of the Royal Navy, HMS Hood, killing all but three crewmen.

1942

1943

1945

9.16.1945

World War II: The surrender of the Japanese troops in

Hong Kong

. The surrender is accepted by the Royal Navy Admiral Sir Cecil Harcourt.

1970

7.31.1970

Black Tot Day: The last day of the officially sanctioned rum ration in the Royal Navy.