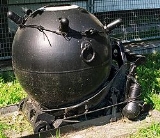 Naval mine
A naval mine is a self-contained explosive device placed in water to destroy surface ships or submarines. Unlike depth charges, mines are deposited and left to wait until they are triggered by the approach of, or contact with, an enemy vessel...
Timeline of Events
1914

10.27.1914

World War I

: The British super-dreadnought battleship HMS Audacious (23,400 tons), is sunk off Tory Island, north-west of

Ireland

, by a

minefield

laid by the armed German merchant-cruiser ''Berlin''.

1940

1988

4.14.1988

The USS Samuel B. Roberts strikes a

mine

in the

Persian Gulf

during Operation Earnest Will.