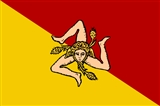 Sicily
Sicily is a region of Italy, and is the largest island in the Mediterranean Sea. Along with the surrounding minor islands, it constitutes an autonomous region of Italy, the Regione Autonoma Siciliana Sicily has a rich and unique culture, especially with regard to the arts, music, literature, cuisine,...
Timeline of Events
535

878

902

8.1.902

Taormina, the last

Byzantine

stronghold in Sicily, is captured by the Aghlabid army.

1266

1282

3.30.1282

The people of Sicily rebel against the Angevin king Charles I, in what becomes known as the Sicilian Vespers.

1693

1848

1.12.1848

The Palermo rising takes place in Sicily against the

Bourbon

kingdom of the Two Sicilies.

1849

5.15.1849

Troops of the Two Sicilies take

Palermo

and crush the republican government of Sicily

1860

1943

7.5.1943

1947

5.1.1947

Portella della Ginestra massacre against May Day celebrations in Sicily by the bandit and separatist leader Salvatore Giuliano; 11 persons were killed and 33 wounded.

1985

10.10.1985

United States Navy

F-14 fighter jets intercept an

Egypt

ian plane carrying the ''Achille Lauro'' cruise ship hijackers and force it to land at a

NATO

base in Sigonella, Sicily where they are arrested.

1993

1.15.1993

Salvatore Riina, the Mafia boss known as "The Beast", is arrested in Sicily after three decades as a fugitive.