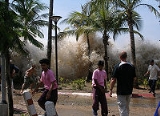 Tsunami
A tsunami is a series of water waves caused by the displacement of a large volume of a body of water, typically an ocean or a large lake...
Timeline of Events
365

7.21.365

A tsunami devastates the city of Alexandria,

Egypt

. The tsunami is caused by an earthquake estimated to be 8.0 on the Richter Scale. 5,000 people perished in Alexandria, and 45,000 more died outside the city.

1343

1755

11.1.1755

Lisbon earthquake: In

Portugal

,

Lisbon

is destroyed by a massive

earthquake

and tsunami, killing between sixty thousand and ninety thousand people.

1833

11.25.1833

A massive undersea earthquake, estimated magnitude between 8.7-9.2 rocks Sumatra, producing a massive tsunami all along the Indonesian coast.

1906

9.18.1906

A typhoon with tsunami kills an estimated 10,000 people in

Hong Kong

.

1929

1946

1957

1983

5.26.1983

A strong 7.7 magnitude earthquake strikes

Japan

, triggering a tsunami that kills at least 104 people and injures thousands. Many people go missing and thousands of buildings are destroyed.

1997

12.26.1997

The Soufriere Hills volcano on the island of

Montserrat

explodes, creating a small tsunami offshore.

1998

7.17.1998

Papua New Guinea earthquake: A tsunami triggered by an undersea

earthquake

destroys 10 villages in

Papua New Guinea

killing an estimated 3,183, leaving 2,000 more unaccounted for and thousands more homeless.

2004

2009

9.29.2009

An 8.0 magnitude earthquake near the Samoan Islands causes a tsunami .