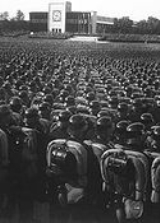 World War II
World War II, or the Second World War , was a global conflict lasting from 1939 to 1945, involving most of the world's nations—including all of the great powers—eventually forming two opposing military alliances: the Allies and the Axis...
Timeline of Events
1983

2.24.1983

A special commission of the U.S. Congress releases a report that condemns the practice of

Japanese internment

during World War II.

1987

4.27.1987

The U.S. Department of Justice bars the

Austria

n President Kurt Waldheim from entering the

United States

, saying he had aided in the deportation and execution of thousands of Jews and others as a German Army officer during World War II.

1988

8.10.1988

Japanese American internment

: U.S. President Ronald Reagan signs the Civil Liberties Act of 1988, providing $20,000 payments to Japanese Americans who were either interned in or relocated by the

United States

during World War II.

1992

1993

5.18.1993

EU

- riots in Nørrebro,

Copenhagen

caused by the approval of the four

Danish

exceptions in the Maastricht Treaty referendum. Police opened fire against civilians for the first time since World War II and injured 11 demonstrators. In total 113 bullets are fired.

1999

10.22.1999

2001

11.13.2001

War on Terrorism: In the first such act since World War II, US President

George W. Bush

signs an executive order allowing military tribunals against foreigners suspected of connections to terrorist acts or planned acts on the

United States

.

2005

10.30.2005

The rebuilt Dresden Frauenkirche (destroyed in the

firebombing of Dresden

during World War II) is reconsecrated after a thirteen-year rebuilding project.