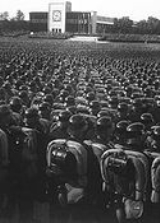 World War II
World War II, or the Second World War , was a global conflict lasting from 1939 to 1945, involving most of the world's nations—including all of the great powers—eventually forming two opposing military alliances: the Allies and the Axis...
Timeline of Events
1942

11.10.1942

World War II:

Germany

invades Vichy France following French Admiral François Darlan's agreement to an armistice with the

Allies

in

North Africa

.

11.15.1942

World War II: First flight of the Heinkel He 219.

11.26.1942

World War II:

Yugoslav Partisans

convene the first meeting of the Anti-Fascist Council of National Liberation of Yugoslavia at Bihać in northwestern Bosnia.

11.30.1942

World War II:

Guadalcanal Campaign

: Battle of Tassafaronga — A smaller squadron of

Japan

ese destroyers led by Raizo Tanaka defeats a US cruiser force under Carleton H. Wright.

1943

1.15.1943

World War II: The Soviet counter-offensive at Voronezh begins.

1.27.1943

World War II: The VIII Bomber Command dispatched ninety-one B-17s and B-24s to attack the U-Boat construction yards at Wilhemshafen, Germany. The first American bombing attack on Germany.

1.31.1943

German Field Marshall Friedrich Paulus surrenders to the Soviets at Stalingrad, followed 2 days later by the remainder of his Sixth Army, ending one of World War II's fiercest battles.

2.14.1943

World War II: Rostov-on-Don,

Russia

is liberated.

3.4.1943

World War II: The Battle of the Bismarck Sea in the South West Pacific comes to an end.

3.13.1943

World War II: In

Bougainville

,

Japan

ese troops end their assault on American forces at Hill 700.

4.13.1943

World War II: The discovery of a mass grave of

Polish prisoners of war

executed by Soviet forces in the Katyń Forest Massacre is announced, alienating the

Western Allies

, the Polish government in exile in

London

, from the Soviet Union.

4.30.1943

World War II: Operation Mincemeat: The submarine HMS Seraph surfaces in the

Mediterranean Sea

off the coast of Spain to deposit a dead man planted with false invasion plans and dressed as a British military intelligence officer.

5.11.1943

World War II: American troops invade Attu Island in the

Aleutian Islands

in an attempt to expel occupying

Japan

ese forces.

7.9.1943

World War II: Operation Husky

7.12.1943

World War II: Battle of Prokhorovka

7.25.1943

World War II:

Benito Mussolini

is forced out of office by his own

Italian

Grand Council and is replaced by Pietro Badoglio.

8.2.1943

8.27.1943

Japan

ese forces evacuate New Georgia Island in the Pacific Theater of Operations during World War II.

9.7.1943

World War II: The German 17th Army begins its evacuation of the Kuban River bridgehead (Taman Peninsula) in southern Russia and moves across the Strait of Kerch to the

Crimea

.

10.14.1943

Prisoners at the

Nazi German

Sobibor extermination camp in

Poland

revolted against the Germans, killing eleven SS troops who were guards there, and wounding many more. About 300 of the Sobibor Camp's 600 prisoners escaped from this Nazi extermination camp, and about 50 of these survived past the end of World War II (on May 8,

1945

, European time).

11.1.1943

World War II: Battle of Empress Augusta Bay, United States Marines, the 3rd Marine Division, land on

Bougainville

in the

Solomon Islands

.

11.28.1943

World War II: Tehran Conference

12.26.1943

World War II: German warship ''Scharnhorst'' is sunk off of

Norway's

North Cape after a battle against major Royal Navy forces.

1944

1.3.1944

World War II: Top Ace Major Greg "Pappy" Boyington is shot down in his

Corsair

by Captain Masajiro Kawato flying a Zero.

1.4.1944

World War II: Operation Carpetbagger, involving the dropping of arms and supplies to resistance fighters in

Europe

, begins.