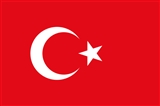 Turkey
Turkey , known officially as the Republic of Turkey , is a Eurasian country located in Western Asia and in East Thrace in Southeastern Europe...
Timeline of Events
526

5.31.526

A devastating earthquake strikes

Antioch

, Turkey, killing 250,000.

1509

1565

9.8.1565

The Knights of Malta lift the

Turkish

siege of Malta that began on May 18.

1826

12.1.1826

French philhellene Charles Nicolas Fabvier forces his way through the

Turkish

cordon and ascends the Acropolis of Athens, which had been under siege.

1831

3.29.1831

Great Bosnian uprising: Bosniak rebel against Turkey.

1853

11.30.1853

Crimean War

: Battle of Sinop — The Imperial Russian Navy under Pavel Nakhimov destroys the Ottoman fleet under Osman Pasha at Sinop, a sea port in northern Turkey.

1863

9.16.1863

Robert College of

Istanbul

-Turkey, the first American educational institution outside the United States, is founded by Christopher Robert, an American philanthropist.

1878

2.2.1878

Greece

declares war on Turkey.

1903

8.2.1903

Fall of the Ottoman Empire: an unsuccessful uprising led by the Internal Macedonian-Adrianople Revolutionary Organization against

Ottoman

Turkey, also known as the Ilinden-Preobrazhenie Uprising, takes place.

1911

1912

1913

1919

9.4.1919

Mustafa Kemal Atatürk

, who founded the Republic of Turkey, gathers a congress in Sivas to make decisions as to the future of Anatolia and Thrace.

1920

1921

1.3.1921

1922

8.29.1922

Turkish

forces set fire to Smyrna in Asia Minor.

9.7.1922

In Aydin, Turkey, independence of Aydin, from

Greek

occupation.

1923

10.29.1923

Turkey becomes a republic following the dissolution of the

Ottoman Empire

.

1924

3.3.1924

The 1400-year-old Islamic caliphate is abolished when Caliph Abdul Mejid II of the Ottoman Empire is deposed. The last remnant of the old regime gives way to the reformed Turkey of Kemal Atatürk.

1925

1.30.1925

The Government of Turkey throws Patriarch Constantine VI out of

Istanbul

.

1927

1.1.1927

Turkey adopts the

Gregorian calendar

: December 18, 1926 (

Julian

), is immediately followed by January 1, 1927 (Gregorian).

4.23.1927

Turkey Türkiye becomes the first country to celebrate Children's Day as a national holiday.

1928

11.1.1928

The ''Law on the Adoption and Implementation of the Turkish Alphabet'', replacing the version of the Arabic alphabet previously used, comes into force in Turkey.

1936

7.20.1936

The Montreux Convention is signed in Switzerland, authorizing Turkey to fortify the

Dardanelles

and Bosphorus but guaranteeing free passage to ships of all nations in peacetime.

1939

12.27.1939

1945

1947

5.22.1947

Cold War

: in an effort to fight the spread of Communism, U.S. President

Harry S. Truman

signs an act into law that will later be called the Truman Doctrine. The act grants $400 million in military and economic aid to Turkey and

Greece

, each battling an internal Communist movement.

1953

3.18.1953

1960

5.27.1960

In Turkey, a military coup removes President Celal Bayar and the rest of the democratic government from office.

1964

1965

7.20.1965

Turkish

prime minister Suat Hayri Urguplu returns from a visit to

Moscow

and announces the

Soviet Union

will provide aid to his country.

1966

12.7.1966

A fire at an army barracks in Erzurum, Turkey kills 68 people.

1970

10.15.1970

The domestic

Soviet

Aeroflot Flight 244 is hijacked and diverted to Turkey.

1974

7.20.1974

Turkish occupation of Cyprus: Forces from Turkey invade

Cyprus

after a "coup d' etat", organised by the dictator of Greece, against president Makarios.

NATO

's Council praises the

United States

and the

United Kingdom

for attempts to settle the dispute.

Syria

and

Egypt

put their militaries on alert.