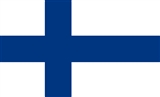 Finland
Finland , officially the Republic of Finland, is a Nordic country situated in the Fennoscandian region of Northern Europe. It is bordered by Sweden in the west, Norway in the north and Russia in the east, while Estonia lies to its south across the Gulf of Finland.Around 5.4 million people reside in Finland, with the majority concentrated in the southern region...
Timeline of Events
1605

8.8.1605

The city of Oulu, Finland, is founded by Charles IX of Sweden.

1771

10.9.1771

The

Dutch

merchant ship ''Vrouw Maria'' sinks near the coast of Finland.

1809

1848

5.13.1848

First performance of Finland's national anthem.

1882

11.2.1882

Oulu, Finland was decimated by the Great Oulu Fire of 1882

1917

12.6.1917

Finland declares independence from

Russia

.

1918

1.12.1918

Finland's "Mosaic Confessors" law went into effect, making Finnish Jews full citizens.

1920

10.14.1920

Part of Petsamo Province is ceded by the

Soviet Union

to Finland.

1929

9.7.1929

Steamer ''Kuru'' capsizes and sinks on Lake Näsijärvi near Tampere in Finland. 136 lives are lost.

1932

4.5.1932

Alcohol

prohibition

in Finland ends. Alcohol sales begin in Alko liquor stores.

1939

11.26.1939

Shelling of Mainila: The

Soviet Army

orchestrates the incident which is used to justify the start of the

Winter War

with Finland four days later.

11.30.1939

Winter War

: Soviet forces cross the

Finnish

border in several places and bomb

Helsinki

and several other Finnish cities, starting the war.

1940

2.29.1940

3.12.1940

Winter War

: Finland signs the Moscow Peace Treaty with the

Soviet Union

, ceding almost all of Finnish Karelia. Finnish troops and the remaining population are immediately evacuated.

1941

1944

1945

1955

1963

1980

2.24.1980

The United States Olympic Hockey team completes their Miracle on Ice by defeating Finland 4-2 to win the gold medal.

1982

4.6.1982

Estonian Communist Party bureau declares "fight against bourgeois TV" — meaning

Finnish

TV — a top priority of the propagandists of Estonian SSR

1995

2002

10.11.2002

A bomb attack in a shopping mall in Vantaa, Finland kills seven.

2004

3.19.2004

Konginkangas bus disaster: A semi-trailer truck and a bus crash head-on in Äänekoski, Finland. 24 people are killed and 13 injured.

2007

11.7.2007

Jokela school shooting in Tuusula, Finland, resulting in the death of nine people.