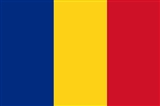 Romania
Romania is a country located at the crossroads of Central and Southeastern Europe, on the Lower Danube, within and outside the Carpathian arch, bordering on the Black Sea...
Timeline of Events
1862

1.24.1862

6.20.1862

Barbu Catargiu, the Prime Minister of Romania, is assassinated.

1863

12.15.1863

In Romania the mountain railway from Anina to Oravita is used for the first time.

1870

8.8.1870

The ''Republic of Ploieşti'', a failed Radical-Liberal rising against Domnitor Carol of Romania.

1877

5.9.1877

Mihail Kogălniceanu reads, in the Chamber of Deputies, the Declaration of Independence of Romania. This day became the Independence Day of Romania.

5.10.1877

Romania declares itself independent from the

Ottoman Empire

following the Senate adoption of Mihail Kogălniceanu's Declaration of Independence. This act is recognized on March 26, 1881 after the end of the Romanian War of Independence.

1878

1913

1916

8.28.1916

World War I: Germany declares war on Romania.

1917

8.6.1917

World War I: Battle of Mărăşeşti between the Romanian and German armies begins.

1918

12.1.1918

Transylvania unites with Romania, following the incorporation of

Bessarabia

(March 27) and Bukovina (November 28).

1919

1.11.1919

Romania annexes Transylvania.

1939

9.21.1939

Romanian

Prime Minister

Armand Calinescu is assassinated by ultranationalist members of the Iron Guard.

1940

6.26.1940

9.7.1940

Treaty of Craiova: Romania loses Southern Dobrudja to

Bulgaria

.

11.27.1940

In Romania, the ruling party Iron Guard arrests and executes over 60 of exiled King Carol II of Romania's aides, including former minister Nicolae Iorga.

1941

6.27.1941

Romanian governmental forces, allies of Nazi Germany, launch one of the most violent

pogrom

s in Jewish history in the city of Iaşi, (Romania), resulting in the murder of at least 13,266 Jews.

1942

1944

8.22.1944

10.25.1944

The Romanian Army liberates Carei, the last Romanian city under

Axis Powers

occupation.

1945

3.6.1945

Communist-dominated

government

under Petru Groza assumes power in Romania.

1947

12.30.1947

King Michael of Romania is forced to abdicate by the

Soviet Union

-backed Communist government of Romania.

1955

1987

11.15.1987

1989

12.22.1989

After a week of bloody demonstrations, Ion Iliescu takes over as president of Romania, ending

Nicolae Ceauşescu

's Communist dictatorship.

12.25.1989

Nicolae Ceauşescu

, former communist

dictator

of Romania and his wife Elena are condemned to death and executed under a wide range of charges.

1990

5.20.1990

The first post-Communist presidential and parliamentary elections are held in Romania.

1999

5.7.1999

Pope John Paul II

travels to Romania becoming the first pope to visit a predominantly Eastern Orthodox country since the Great Schism in 1054.

2002

2004

2005

2007

1.1.2007

Bulgaria

and Romania officially join the

European Union

. Also, Bulgarian, Romanian, and Irish become official languages of the European Union, joining 20 other official languages.