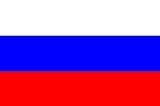 Russia
Russia or , officially known as both Russia and the Russian Federation , is a country in northern Eurasia. It is a federal semi-presidential republic, comprising 83 federal subjects...
Timeline of Events
1809

9.17.1809

Peace between

Sweden

and Russia in the

Finnish War

. The territory to become

Finland

is ceded to Russia by the Treaty of Fredrikshamn.

1812

2.2.1812

Russia establishes a fur trading colony at Fort Ross, California.

6.24.1812

Napoleonic Wars

: Napoleon's Grande Armée crosses the Neman River beginning the invasion of Russia.

10.23.1812

Claude François de Malet, a French general, begins a conspiracy to overthrow

Napoleon Bonaparte

, claiming that the Emperor died in Russia and that he is now the commandant of

Paris

.

12.14.1812

The French invasion of Russia comes to an end as the remnants of the Grande Armée are expelled from Russia.

1813

1814

1815

1825

12.14.1825

Advocates of Liberalism in Russia rise up against Tsar Nicholas I and are put down in the Decembrist Revolt in St. Petersburg.

1829

9.14.1829

The

Ottoman Empire

signs the Treaty of Adrianople with Russia, thus ending the Russo-Turkish War.

1830

11.29.1830

November Uprising: An armed rebellion against Russia's rule in Poland begins.

1849

11.16.1849

A Russian court sentences Fyodor Dostoevsky to death for anti-government activities linked to a radical intellectual group; his sentence is later commuted to hard labor.

1853

1854

1861

2.19.1861

Serfdom is abolished in Russia.

1863

1864

5.21.1864

Russia declares an end to the Russian-Circassian War and many Circassians are forced into exile. The day is designated the Circassian Day of Mourning.

1867

10.18.1867

United States

takes possession of

Alaska

after purchasing it from Russia for $7.2 million. Celebrated annually in the state as Alaska Day.

1875

8.22.1875

The Treaty of Saint Petersburg between

Japan

and Russia is ratified, providing for the exchange of Sakhalin for the Kuril Islands.

1879

5.26.1879

Russia and the

United Kingdom

sign the Treaty of Gandamak establishing an Afghan state.

1881

2.24.1881

China and Russia sign the Sino-Russian Ili Treaty.

1883

1887

6.18.1887

The Reinsurance Treaty between

Germany

and Russia is signed.

1888

3.20.1888

The premiere of the very first Romani language operetta is staged in

Moscow

, Russia.

1894

1895

5.7.1895

In

Saint Petersburg

, Russian scientist Alexander Stepanovich Popov demonstrates to the Russian Physical and Chemical Society his invention, the Popov lightning detector — a primitive radio receiver. In some parts of the former

Soviet Union

the anniversary of this day is celebrated as Radio Day.

1896

1898

10.1.1898

Czar

Nikolay II

expels Jews from major Russian cities.

1904

1905

1.9.1905

According to the

Julian Calendar

which is used at the time, Russian workers stage a march on the

Winter Palace

that ends in the massacre by Tsarist troops known as Bloody Sunday, setting off the Russian Revolution of 1905.