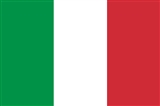 Italy
Italy , officially the Italian Republic languages]] under the European Charter for Regional or Minority Languages. In each of these, Italy's official name is as follows:;;;;;;;;), is a unitary parliamentary republic in South-Central Europe. To the north it borders France, Switzerland, Austria and Slovenia along the Alps...
Timeline of Events
1939

1940

8.15.1940

An

Italian

submarine torpedoes and sinks the Greek cruiser ''Elli'' at Tinos harbour during peacetime, marking the most serious Italian provocation prior to the outbreak of the

Greco-Italian War

in October.

1942

9.12.1942

1943

9.9.1943

World War II: The

Allies

land at Salerno and Taranto, Italy.

9.12.1943

World War II:

Benito Mussolini

,

dictator

of Italy, is rescued from house arrest on the Gran Sasso in Abruzzi, by

German

commando forces led by Otto Skorzeny.

12.2.1943

A Luftwaffe bombing raid on the harbour of

Bari

, Italy, sinks numerous cargo and transport ships, including an American Liberty ship, the John Harvey, with a stockpile of

World War I

-era mustard gas.

1944

1.22.1944

World War II: The

Allies

commence Operation Shingle, an assault on Anzio, Italy.

1.29.1944

World War II

: The Battle of Cisterna takes place in central Italy.

1.29.1944

In Bologna, Italy, the Anatomical Theatre of the Archiginnasio is destroyed in an air-raid.

2.7.1944

World War II

: In Anzio, Italy,

German

forces launch a counteroffensive during the Allied Operation Shingle.

2.15.1944

3.18.1944

The eruption of

Mount Vesuvius

in Italy kills 26 and causes thousands to flee their homes.

1945

1946

5.1.1946

The Paris Peace Conference concludes that the islands of the Dodecanese should be returned to

Greece

by Italy.

6.2.1946

Birth of the Italian Republic: In a

referendum

,

Italians

vote to turn Italy from a

monarchy

into a

Republic

. After the referendum the king of Italy Umberto II di Savoia is exiled.

1947

2.10.1947

12.22.1947

The Constituent Assembly of Italy approves the Constitution of Italy.

1949

5.4.1949

The entire Torino

football (soccer)

team (except for one player who did not take the trip due to an injury) is killed in a plane crash at the Superga hill at the edge of Turin, Italy.

1951

12.24.1951

Libya

becomes independent from Italy. Idris I is proclaimed King of Libya.

1954

7.31.1954

First ascent of K2, by an

Italian

expedition led by Ardito Desio.

1955

1957

1963

10.9.1963

In northeast Italy, over 2,000 people are killed when a large

landslide

behind the Vajont Dam causes a giant wave of water to overtop it.

1964

3.21.1964

In

Copenhagen

,

Denmark

, Gigliola Cinquetti wins the ninth Eurovision Song Contest for Italy singing "Non ho l'età" ("I'm not old enough").

1965

7.16.1965

The Mont Blanc Tunnel linking

France

and Italy opens.

1966

11.4.1966

Two-thirds of

Florence

, Italy is submerged as the River Arno floods; together with the contemporaneous flood of the Po River in northern Italy, this leads to 113 deaths, 30,000 made homeless, and the destruction of numerous Renaissance artworks and books.